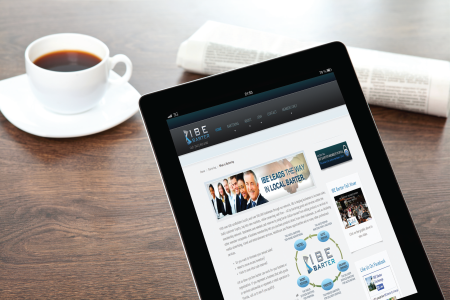 Technology For The Mobile Trader
Barter may be as old as time, but the way that we trade as members of a contemporary commercial barter exchange is evolving at the speed of light. The internet, of course, is fueling this rapid evolution, and no other single tool has become more central to that growth than our ever-handy smartphone. For the better part of a decade barter exchanges have provided their clients and members with access to their transactional and general account information online. Before that, data connected websites, in most cases, were a luxury. Once the exchanges started giving us access to this data we started craving it more and more. The rush to consume these ever increasing quantities of data was on.
In the early days of self-serve online data we were flooded with a host of new tools that let us engage with our barter exchanges in a whole new way. Seemingly overnight we were able to process our own transactions on the exchange's website rather than having to call a broker to have him enter a trade sale on our behalf. We could check our account balances and look at our previous months' statements. In some cases we could even pay our bill right from our home computer. The potential of these new-found efficiencies was instrumental in the growth of commercial barter exchanges across the country.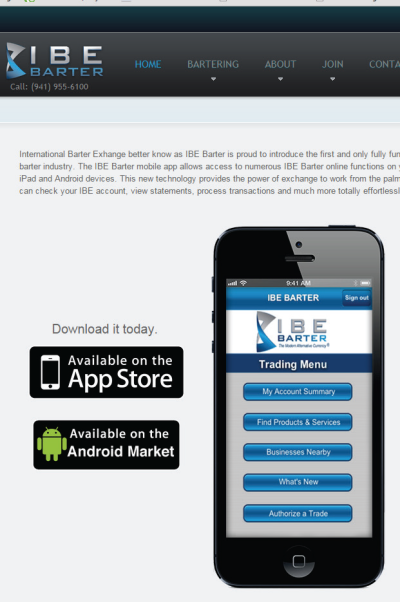 Perhaps the greatest single gain for exchange members during this period was that we finally had first-hand access to the barter exchange's membership directory. Gone were the days when we had to call in to the exchange's office to ask for a referral to a dry cleaner or dentist. Never again would we ask ourselves "where can I find a restaurant on trade?" The membership directory was easily accessible from any internet connected computer. We discovered whole categories of exchange members that we never imagined existed, and as a result opportunistic trading took off. Technology had truly provided us with a meaningful enhancement to our barter exchange membership.
With the advent of the smartphone this easy access to our bartering benefits was extended yet again. Now we can engage with the world of barter on the go.
At first it seemed that this all-access progression to the mobile phone would be a no brainer. The presumption was that our exchange would simply take all the handy new tools that they offered us on their website and bring them to us on our smartphones.
It was a great notion, but this approach had a few fundamental flaws: connectivity, screen size and speed.
At the outset, many trading and banking app developers rushed to bring us flashy, super-charged visual experiences to go along with the intensive data access. The problem, of course, was bandwidth. In a mobile environment, broadband connectivity is still a question mark in many neighborhoods and even many urban areas. As a result, the initial adoption of these new mobile bartering platforms stagnated at first. The lesson: simplicity.
Even though unlimited data access is increasingly bundled with our mobile phone plans, that's no reason for a mobile trading platform to give us anything more than exactly what we want at the very moment we want it. Most users will tell you that they value speed – hands down – over flashy background images, animations and other shiny "bells-and-whistles" when it comes to their banking and trading apps.
Dead zones, limited connectivity, unintended toggling between WiFi, 3/4G and LTE are just some of the frustrations mobile platform users face. The dreaded spinning "please wait" wheel is tantamount to the internet laughing in our face, and nobody I know suffers it well. Barter exchange mobile users are no exception.
Thankfully, software providers are actually slimming down most mobile user interfaces. In a trend that seems almost counter-intuitive to the plummeting cost of data storage and the increasing availability of wireless broadband, bare-bones data access has become the Holy Grail of modern user interface design.
Along with this "thinner is better" approach in design, developers are also reevaluating the mobile tools themselves and pairing back the available feature sets to the essentials that are truly beneficial when we're on the go. Access to account balances, the ability to post a trade sale and the capacity to find goods and services within the bartering network remain among the suite of features in the latest mobile trading platforms. There are even some notable new tools in the arsenal.
One of the most impactful new technologies for the mobile barter exchange member is geolocation, and once again the exchange's membership directory is the big winner. In addition to finding other barter members simply by product or service category, mobile users can now "explore" the range of other members with an eye on proximity. The question of what's available on trade is refined even further to what's nearby. Geolocation is giving birth to a second wave of opportunistic trading.
With all of this recent progress in mobile accessibility to our barter accounts, the natural question is, of course, "What comes next?" The answer won't be much of a surprise to the gadget gurus among us but it will be a huge boon to the barter industry as a whole. Get ready for your very own digital barter wallet.