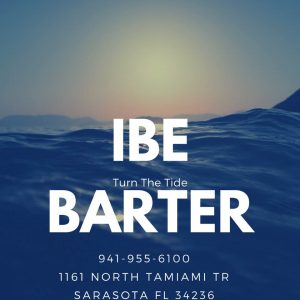 IBE is Gathering Smart Business Owners With a Common Purpose – to Upgrade Their Business!
Receive a complimentary membership and become a premier founding trading partner of the IBE Barter Exchange of Southwest Florida. Businesses in Cape Coral, Fort Myers, Naples, welcome to the IBE Barter Business Community.
Call now to redeem your Complimentary IBE Barter Membership.  941-955-6100 ext. 202
Ask for Mary Unger, Owner/Partner, Since 1991.
IBE Barter has the largest regional barter exchange on Florida's gulf coast.  We are inviting your business to join the IBE Barter Business Community as we expand our reach into your community.

IBE Brings over 26 years of experience working with thousands of Regional, National and International Trading Business Partners. 
Feel The Results with IBE Barter, Since 1991
✓ New Customers ✓ Cash Savings ✓ No more chasing accounts receivables
✓ No more unbillable hours ✓ No more unsold goods ✓ No more unexpected expenses
Your competitors will wonder what your secret sauce is!
IBE Barter (Corporate Headquarters) 1161 North Tamiami Trail, Sarasota FL 34236
941-955-6100
www.ibebarternews.com www.barterbusinessreview.com