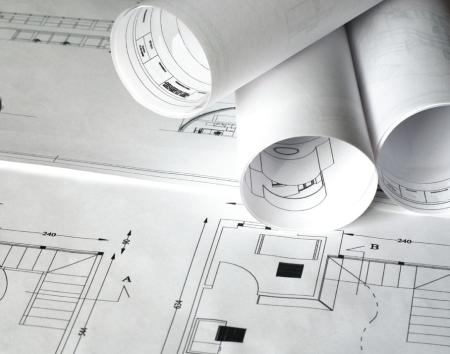 Even the most confident entrepreneur faces the daunting task of launching a business. Where the business owner envisions the final product, he may be blind to what steps he needs to begin. Where will it be located? How many employees? How to get the necessary funds? How will he lay out a foundation to build a lasting, growing enterprise?  Many of those questions can be answered with the ancient, but updated practice of bartering.
Building a Foundation
"Create building plans and have them approved by the local building commission." 
When an entrepreneur, such as a contractor, joins an organized barter exchange, he is announcing his business has arrived and he needs support. He may need to set up a physical space, an office and an alarm service to get started, and he can get all those things through a barter exchange. By networking with other barter members, the entrepreneur can build a strong foundation by developing the opportunity to generate referrals; confidence from talking with other members; the opportunity to forge partnerships; the opportunity to build a reputation by being visible in the community; and the opportunity to develop lasting friendships.
"Mark the foundation layout with paint lines in the dirt." After setting up, the entrepreneur needs to designate those items he requires to operate his business. Through networking with  exchange members, he finds sources for supplies, advertising venues, or anything else that can be traded. Networking helps people build relationships. In a barter exchange, relationships help entrepreneurs build their businesses.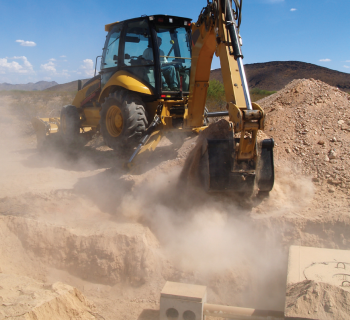 "Set up batter boards for all corners."  A barter exchange provides a competitive edge. Members "set up batter boards" by conducting business transactions only with other members, and locking out the competition of non-members. Members enjoy the services of barter members as customers, plus their referrals. They have an incentive to refer other members' services to all of their contacts.
"One of my barter clients called me to do some repair work on the roof of his building," said Gary G., a barter member and owner of a roofing company in Rochester, N.Y. "He was so pleased with the job that he also contracted with me to do a tear-off and replacement on the roof at his home. When I started the job I put my sign — which by the way, I bartered to have printed — in his front yard. Two of his neighbors saw the sign, stopped by while I was working on the roof, and asked if I'd look at their roof as well. It turns out that I got two new cash customers as a result of my barter deals."
"Dig the foundation with a backhoe to the depth presented in the building plans. Install rebar into the foundation holes to reinforce the ground structure."
Dale DesJardins, owner and founder of Absolute Aluminum, is based in Venice, FL. Twenty two years ago, Desjardins began digging his foundation when Absolute Aluminum became a member of the International Barter Exchange (IBE) in Sarasota, FL.  DesJardins has experienced company growth, clientele ebbing and flowing, busy seasons, down times, new products, and an evolving industry. He built Absolute with bartered goods and services and by developing relationships, or "installing rebar," to strengthen and reinforce continual business.  "We use it regularly," he says. "To me, barter is just another form of currency."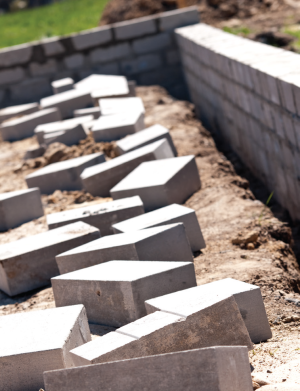 "Fill in the footings with concrete and allow a few days for it to dry."  As Absolute expanded, DesJardins fortified his business foundation with bartered services from members in his field, such as electricians, plumbers, tile installers and other services. Additionally, he benefited from trades with office suppliers, and advertising venues.
 "Set up the plumbing lines. Build the foundation walls. On top of these build up with brick."
Barter members supplied DesJardins with new customers, solidifying a strong customer base; just another brick on the wall. He says his clients feel comfortable when he gives them the name of an IBE member, in reciprocation. "It's a better referral, because the client has already dealt with someone they know."  When the member's business thrives by using alternative currency, so does the barter exchange.
"IBE is only as strong as our members, " says the IBE website. "In 23 years of business we have learned that for every IBE Member relationship you build and create commerce which potentially brings three cash referrals."
"Use straps or bolts to anchor the sill plate to the foundation. Do this when the concrete is wet so it sets with the drying concrete." Members may never have to use the services of other members until a crisis happens.   DesJardins repeatedly bartered with the same types of businesses while growing his company. But during a slow period IBE Barter became his anchor. He had acquired enough barter dollars to pull him through the 2008 economic plunge.
"I used that money to offset a lot of ongoing expenses, like using a shredding company that I had never used before," remembers Desjardin. "I had never used some trades, like vehicle wraps. It also brought business, when things were slowing down and I needed every sale that I could get."
Those years of networking and doing business with other members laid the foundation that stabilized his company during difficult times.
"Fill the inner area with gravel. Cover with plastic. Pour concrete over the plastic. Smooth the surface with a concrete smoother. Allow the concrete to set."
The barter exchange sales team helps members smooth the transition from an ebbing and flowing economy. They promote and introduce the products and services of members who may not cross paths in prosperous times. When the economy plummets, the staff ferrets out ways to help members avoid lay-offs or discounting their services.
Mark J., a contractor in a barter exchange, had experienced a sharp decline in the construction industry following the 9/11 terrorist attacks. Simultaneously, he needed a new website and upgraded electronics to run his business. He took action and joined a barter exchange. Within months, he had rebuilt his lost revenues, bartered for a website, and strengthened the infrastructure of his company while the economy recovered.
"Barter really helped save my business and allowed me to carry on rather than face the possibility of closing after 9/11," says Mark J. "Barter helps to maintain business levels because everyone involved agrees to do business with each other."
"You just built a foundation!"
When launching a business or growing an existing one, the first step begins with a foundation of relationships. "You have to be relationship building, and that is never going to change," says Mary Unger, co-owner of IBE. "Even with all this technology–it is an added benefit, a tool. Me talking to you? That's where you build your business. It's still the personal touch that matters."